IMPORTANT UPDATE for our valued clients re: COVID-19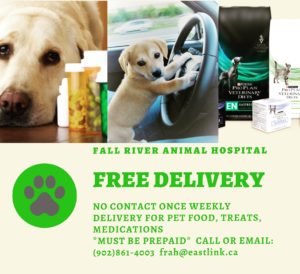 The Fall River Animal Hospital remains committed to maintaining essential services to our patients, while maintaining a safe work environment for our staff and clients. With the recent state of emergency announced in NS, we have made some necessary changes in order for us to comply with the guidelines set forth by our government and public health officials.
Effective March 23, 2020, we have REDUCED HOURS :
-Monday 8:30-6:30
-Tuesday 8:30-6:30
-Wednesday 8-8 (closed between 1:30-2:30 pm)
-Thursday 8:30-6:30
-Friday 8:30-6:30
-Saturday 9-3
We will be working in 2 teams of 5 staff to provide an increased level of social distancing and reduce the scale of transmission if one team member is impacted by COVID-19. This plan allows us to continue to provide care if one team must be quarantined.
We are rescheduling all of our non-urgent appointments to next month. We are not able to accommodate nail trims, wellness visits, spays/neuters and dental cleanings at this time.
**Puppy/kitten vaccinations are considered essential**
We are still operating with a locked door and providing concierge-type service to bring food and medications out to your vehicle. Please call ahead to order, arrange payment and then call on your arrival to the hospital.(902)861-4003
Our staff will come out to get your pet for their appointment and the doctor will communicate with you by phone. Clients are no longer allowed in the hospital (exceptions made for end of life appointments)
Our 4 phone lines are very busy but we appreciate your patience as we get to everyone's requests. Please call back or email us if you can't get through right away.
If you have an after hours emergency, our partners at the Metro Animal Emergency Clinic can be reached at (902)468-0674
Again, we can't thank you enough for your ongoing support and understanding. We love what we do, and we've worked really hard to set up these protocols so we can continue to help the pets in our community.
Please call us if you have any questions about your pet's care (902)861-4003